Hey there fellow geeks! Today I have for you my first gaming mani for this week's theme of the Geek Challenge! I have a couple other ideas in mind so I will be sharing those later in the week - what can I say, I love video games. This was the week I was most excited about! So, for my first one, I did probably what is my favorite game at the moment - Skyrim!
For those of you who don't play (and probably even those of you who do) this mani might require a little explanation. To me, one of the coolest things about this game is how you can make your character your own, and give them strengths and weaknesses in any skills you'd like. When I started playing, I took to Alchemy right away. I thought it was so fun learning the different combinations of potions and once I leveled it to 100, it is a great way to make money in the game. Anyways, my mani is inspired by Alchemy and some of the ingredients you can combine to make potions and poisons. So here is each nail one by one with their inspirations!
On my thumb is an attempt at the constellation that represents Alchemy; this is the skill tree where you can get perks related to Alchemy. I tried to do a makeshift galaxy nail for the background and dotted on the stars for each skill perk using a bobby pin.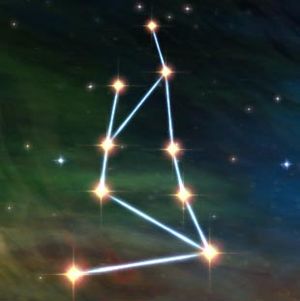 My index finger is inspired by a Briar Heart (the rest of these are sort of macro views of different ingredients). This was the hardest to do, but it looks so cool in the game, I just had to try (multiple times)! I'm still not super happy with it but I will keep trying!
My middle finger is a Taproot, I think these ingredients look so cool and I just had to try to recreate it.
The ring finger is a Chaurus Egg; getting these ingredients is not fun because I hate Chaurus. But their eggs look so cool!
And last but not least Wisp Wrappings, you can find these on a dead Wispmother and they look like iridescent, holey bandages. I did some sponging and Saran Wrap with a few different colors, and I think I got kinda close! (It's shown better in the full mani, I couldn't get it focused!)
So what do you think?? And don't forget to check out the other ladies doing this challenge!
Kelly